Beermiscuous Curbside Pickup & Bicycle Delivery
Beermiscuous Lakeview will operate with reduced hours beginning Tuesday, March 17th, 2020. Curbside Pickup and Beerista Bike Delivery available.
Please note that we are happy to offer double rewards points for any purchases made during this time.
Chicago/Lakeview Hours:
M-F: 3p-8p
Sat/Sun: 2p-7p
Place an Order
Fill out the order form
Email orders@beermiscuous.com with a photo of your ID (existing Rewards Members are exempt)
We'll call you at the number provided and we will:
– Confirm your order details
– Give you a total*
– Get credit card payment info (which we destroy immediately after running your card)
– Schedule pickup time
Pick Up Your Order
Come to Beermiscuous Lakeview, at the time we set up on the phone
Give us a call to let us know you have arrived (773) 698-6824
We'll wave at you through the door, and place your order on our front stoop
Grab your brews, consider dropping an additional cash tip in the mailbox, and get your behind back home! #FlattenTheCurve
Terms
We will be unable to accept Rewards Program redemption during this time. All purchases will receive double reward points.
All orders will have applicable tax plus a 30% processing fee/gratuity automatically added. This gratuity will go directly to the staff member picking/prepping your order. If you would like to add additional tip, please allow cash.
Beerista Bicycle Delivery Terms
There is a $10 delivery fee that will be automatically added to the order. This goes directly to your Beerista Bicyclist.
We can only deliver 12 bottles/cans MAX per order.
Unfortunately, we must cap our delivery at 15 orders per day.
Must Be Located Within One Mile of the store:
Boundaries: N Addison | E Sheridan/Lake | W Damen | S Armitage
Orders will be delivered during a 2-hour window, the day after the order. (1-3p M-F & 12-2p Sat/Sun)
Orders will be no-touch delivered to the address provided (we'll call when we get there)
We very, very much appreciate your support of little craft beer cafe.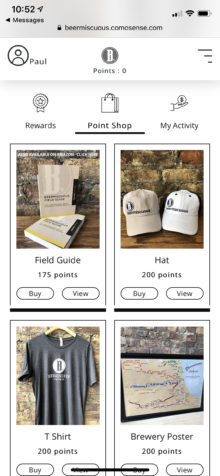 Do you ever wish you didn't have to stand in over-night lines just to purchase the hottest beer releases? Or have you dropped by your favorite retailer only to find some lucky beer nomad happened to grab the last bottle of that hot release from the shelf just minutes before you arrived?
At Beermiscuous, we understand your frustration. And that's why we've created a unique rewards program that takes care of our regulars. Sure, you can earn cool rewards such as free swag and discounts. But we take rewards to the next level and offer select bottle reservations and one-of-a-kind events (i.e., a free 10-year vertical Goose BCBS tasting) ONLY to our rewards members. Sign up and feel the love!!
Step 1: Download our app from Google Play or the App Store and sign up
Step 2: Visit Beermiscuous and tell us that you're a rewards member at check-out (earn 1 point for every $1 spent)
Step 3: In 7 days, you'll receive a $5 off joining reward; feel special
We keep our Facebook page up-to-date on upcoming events, but if you would like more in-depth event information, a listing of new beers in stock, Beerista beer reviews and special offers/events for rewards members, sign-up for our weekly newsletter. Check out our last 3 issues:
2812 N. Lincoln Ave, Chicago  |  773-698-6824
Mon-Fri : 3-8p  |  Sat-Sun : 2-7p